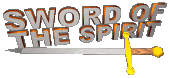 "...sword of the Spirit, which is the word of God" Eph. 6:17

Our prayer for God's people is that they will study the Word of God! The Word
first leads to Salvation. Then as a child of God we read the Word to grow, to
be guided, to be strengthened, to be empowered with holy boldness, to be soul
winners, etc and etc.

We pray the helps listed on this page will help you grow in the nurture
and admonition of the Lord. May God richly bless you as you study His Word!



BIBLE STUDY LESSONS



NINE BASIC BIBLE DOCTRINE LESSONS: CLICK HERE

BOOK OF JOHN STUDY LESSONS: CLICK HERE

REQUEST MORE BIBLE STUDY LESSONS BY EMAILING
AS YOU STUDY GOD'S WORD, DON'T FORGET TO PRAY,
AND
ASK GOD FOR HIS GUIDANCE

WRITE TO:
LRWM * 497 Judith Ave. * Fruitland Park * FL * 34731